In any season, fall under the spell of this magical place, awaken the senses, open your eyes, and listen to the melody of a wonderful world that seems far away from the city. Take in a deep breath of the fragrances of spring, summer and autumn, of the humus, the ferns and the flowers.
There are infinite delights and places of interest in the park. We'll stop off at a few of the most interesting ones.
On the left of the entrance (chausée de Bruxelles), the "Les Etangs" villa was home to the Solvay family from 1930-32 during the conversion of the Château. This explains why a new wing was added to the existing building in 1926. Currently, the villa is rented out as office premises. It is covered in common ivy, Persian ivy with broad green and yellow leaves, Virginia creeper and wisteria.
In the north, an immense, gently sloping meadow called "La Bruyère Guêpe" goes on for as far as the eyes can see. There are three impressive giant sequoias.
In the south, the property boundary is marked by the Vallée de l'Argentine which is largely hidden by tall plants. A narrow bank separates the stream from the "Etang du Gris Moulin". The latter does not belong to the estate.
NEW

Find your next walk! We created two easy hikes in Cirkwi, free app to donwload on
Google Play
or
Apple Store
Here below, you will find the pdf version to download
Promenade 1
Audio Guide in FR :
The gardens on an MP3 player
Long: 5.561m
Time +/- 1h25 min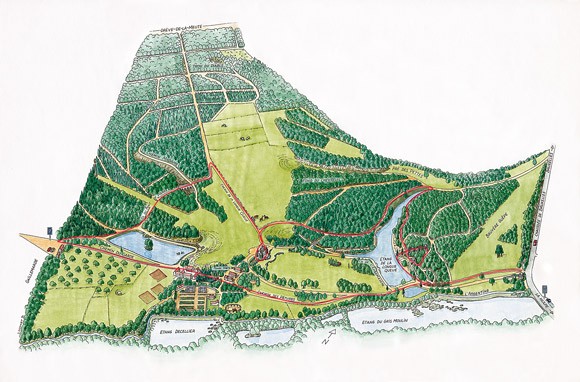 Map to download in pdf
Promenade 2
Promenade des Perspectives
Long : 5.044m
Time +/- 1h15 min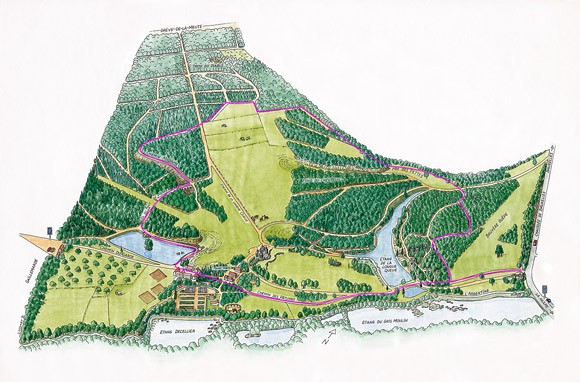 Map to download in pdf
Promenade 3
Promenade des Zones Humides
Long : 4.986m
Time+/- 1h15 min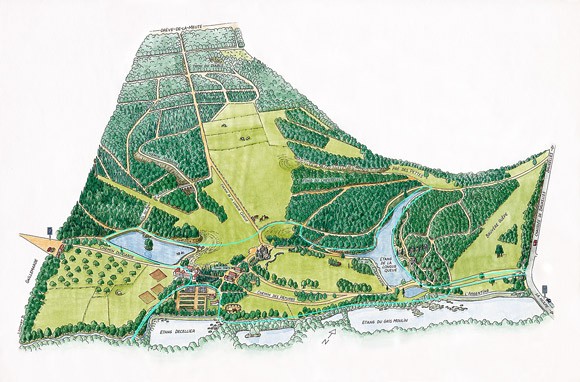 Map to download in pdf